Who we are
When it comes to gambling compliance, our expertise is second to none – we minimize the possibility of compliance risk, and our experts excel in regulatory, operational, and tech design. We are your one-stop shop compliance solution - from covering governance, risk management and operations, to providing scalable platforms for operational delivery, reporting, and gambling regulation.


Our Mission
Let us help you navigate the complex landscape of gambling regulations. Our goal is to move ahead regulation, offering tailored compliance strategies and advanced tools for gambling operators and land-based operations, navigating strict compliance requirements. Through innovation and collaboration, we empower clients for business sustainability and regulatory resilience, so that they thrive in any jurisdiction.
What we do
Our primary focus is to provide practical solutions, ensuring regulatory compliance and minimizing fines and administrative actions. We enhance compliance frameworks, ensure smooth compliance, and provide expert guidance for gambling operators, using innovative tools for effective results.



Innovation, Sustainability, Insight, Reliability
The Four Pillars of Crucial Compliance
INNOVATION
Our team of experts is dedicated to exploring new technologies and developing pioneering solutions and strategies, ensuring responsible gambling, and putting our clients are always one step ahead of the competition.
SUSTAINABILITY
Our commitment lies in fostering compliance programs that provide regulatory resilience and drive sustainable business growth strategies for our clients.
INSIGHT
Our distinct advantage stems from our extensive expertise in the gambling industry and regulatory landscape. By proactively identifying regulatory trends, we empower our clients to make well-informed decisions regarding their compliance programs & responsible gambling.
RELIABILITY
At Crucial Compliance we value reliability and trust. We take pride in our commitment to delivering tailor-made solutions to each organisation. We ensure that our clients can focus on their business operations with peace of mind.
Crucial Products & Services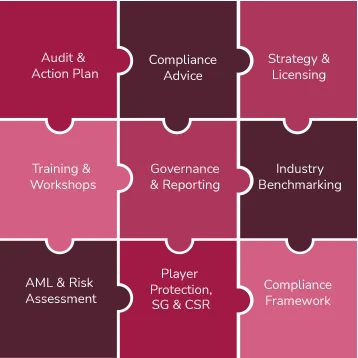 Compliance Consultancy
We provide expert guidance and support when it comes to gambling regulation, ensuring adherence to regulatory frameworks and best practices. Our experienced teams know the online gambling & online gaming industries inside out, and offer tailored solutions, assisting with compliance governance, risk management strategies, and implementation of effective control measures to foster sustainable and compliant business programs.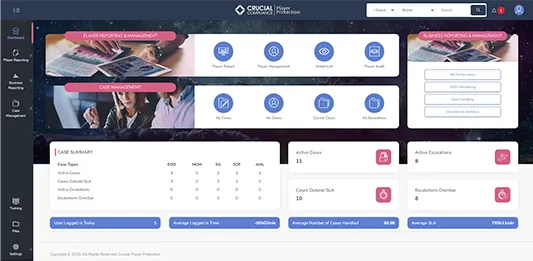 Crucial Player Protection
Our complete compliance systems make online gambling management simple. By seamlessly integrating player behavior automation, trigger systems, and modelling, our Case & Player Management Platform equips your gambling compliance and operational teams with comprehensive information on how to effectively manage the risks of your customer population.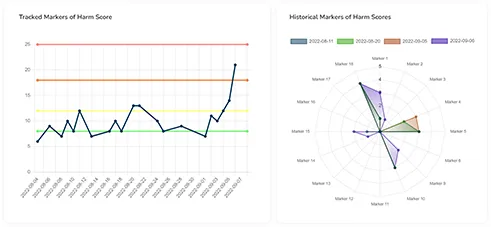 Crucial Compliance Modelling
Our advanced Anti-Money Laundering and Marker of Harm behavioral models are meticulously crafted to include highly predictive and descriptive triggers and markers. This empowers you to proactively meet regulatory requirements and maintain compliance within your online gambling model.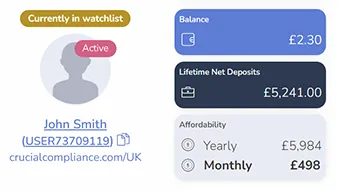 Financial Stability Model
Utilizing regulatory-approved data, including information sourced from the Office of National Statistics, our online gambling analysis model delves into player financial vulnerability and affordability levels to help your teams make informed decisions.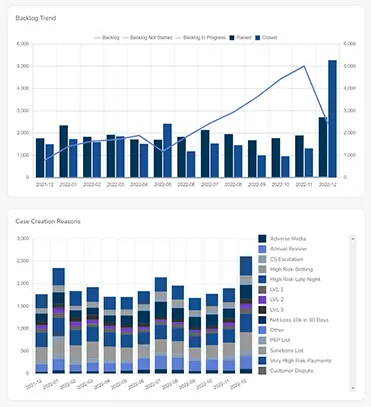 Compliance Dashboard & Reporting
We offer a comprehensive range of reports, customer-focused segmentations, predictive models, business analytics, and marketing attribution for online gambling platforms. All reports are fully customisable to match your specific business needs and compliance framework, empowering you with valuable insights and data-driven strategies for optimised operations and day-to-day risk management.
Crucial Updates
Crucial Digest
Get Updated
Get a regular update on our work, to get regular updates, not only about our current projects but also about recent developments in the compliance world.


Crucial Press Releases
Read us
Check our media section to read about our latest accomplishments.



Crucial Events
Meet us
Let's meet in person! We organise events and round-table discussions aimed at ethics, business sustainability and growth, navigating regulatory landscapes, and compliance innovation.